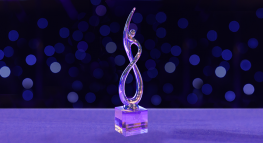 The Space Foundation annually presents the Douglas S. Morrow Public Outreach Award in memory of the late Douglas S. Morrow, renowned Academy Award winning writer and producer, space advocate and former Space Foundation Board Member, to an individual or organization who has made significant contributions to the public awareness of space programs. The Douglas S. Morrow Public Outreach Award is presented annually at the Space Symposium.
Morrow Recipients
2019 National Space Council and its Chair, U.S. Vice President Mike Pence
2018 Margot Lee Shetterly
2017 DigitalGlobe and The Associated Press
2016 Andy Weir, author
2015 NASA/Industry EFT-1 Team
2014 Col. Chris Hadfield (Ret.)
former Canadian astronaut
2013 Bill Nye, CEO, The Planetary Society
2012 NASA Social Media Team
2011 Jay Barbree, NBC News;
Marcia Dunn, The Associated Press;
William Harwood, CBS News
2010 Leonard Nimoy, actor and director
2009 Dr. Neil deGrasse Tyson, astrophysicist
2008 Delaware North Companies Parks & Resorts
2007 Col. Eileen M. Collins, USAF (Ret.)
former NASA astronaut
2006 Tom Hanks, actor and director
2005 The Ansari X-Prize Foundation
2004 LIFE Magazine
2003 Robert T. McCall, artist
2002 Gene Roddenberry and Majel Barrett Roddenberry
2001 Popular Science Magazine
2000 Space Awareness Alliance
1999 The Crew of the Space Shuttle Mission STS-95
1998 NASA's Jet Propulsion Laboratory
1997 The Cable News Network (CNN)
1996 The Apollo 13 Movie Team
1995 Discovery Communication, Inc.
---