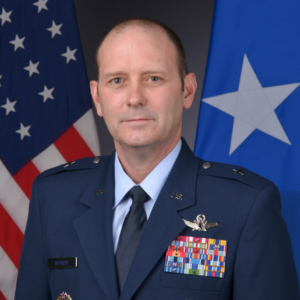 Brig. Gen. Douglas Schiess, USAF
Deputy Commanding General, Operations, Headquarters Space Operations Command
U.S. Air Force
Brig. Gen. Douglas A. Schiess is the Deputy Commanding General, Operations, Headquarters Space Operations Command, Peterson Space Force Base, Colorado.
Brig. Gen. Schiess is responsible for all operational capabilities generated, presented, and sustained in Space Operations Command. In this capacity, he is responsible for employment considerations, planning factors, and integration with Combatant Command requirements, plans and directives. The command mission areas include intelligence, surveillance and reconnaissance, space battle management, space domain awareness, missile warning and tracking, orbital warfare, space electromagnetic warfare, military satellite communications, precision navigation and timing, and cyber operations.
Brig. Gen. Schiess entered the Air Force as a Distinguished Graduate of the Air Force Reserve Officer Training Corps at the University of California at Los Angeles in 1992. He has commanded the 4th Space Operations Squadron at Schriever Air Force Base, Colorado; the 45th Operations Group at Cape Canaveral Air Force Station, Florida; the 21st Space Wing at Peterson AFB, Colo.; and the 45th Space Wing at Patrick AFB, Fla. He deployed to Al Udeid Air Base, Qatar, in support of operations Enduring Freedom, Resolute Support, and Inherent Resolve. His staff assignments include Headquarters Air Force Space Command, the Air Staff and Office of the Secretary of the Air Force. Prior to his current assignment, Brig. Gen. Schiess was the Commander, 45th Space Wing.
---
Related Sessions