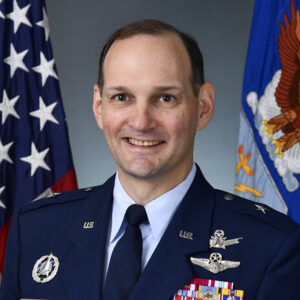 Brig. Gen. John M. Olson, USAF
Mobilization Assistant to the Chief of Space Operations
U.S. Space Force
Acting Chief Technology and Innovation Officer
Brig. Gen. John M. Olson is both Mobilization Assistant to the Chief of Space Operations and Acting Chief Technology and Innovation Officer, Headquarters United States Space Force, Pentagon, Washington, D.C. He assists and advises the Chief of Space Operations with responsibilities that include developing space forces, known as Guardians; acquiring military space systems; maturing space power doctrine; and organizing space forces to present to the joint Combatant Commands. General Olson leads Space Force technology, innovation, and digital transformation initiatives to advance, support, protect, and defend U.S. and allied interests in space. He develops strategy, plans, policy, and priorities for efficient and effective architecting, research, development, testing, force design, operations, and sustainment of technologies, capabilities, and systems with partners and allies for leadership in space and information warfare. Brig. Gen. Olson also flies as an Airborne Emergency Action Officer conducting strategic deterrence and operations missions aboard the Looking Glass Airborne Nuclear Command Post.
General Olson graduated with military distinction from the U.S. Air Force Academy in 1992 and received a graduate scholarship to earn a master's degree in engineering from the University of Illinois. His initial assignment was to the Air Force Advanced Composites Program Office at Sacramento Air Logistics Center, California. While on active duty, he held numerous air, space, acquisition, test, weapons, political-military, intelligence, and technology command, staff, and leadership roles. He is a graduate of the U.S. Air Force Test Pilot School and a former European and Eurasian Foreign Area Officer. Gen. Olson deployed to Southwest Asia, supporting air and space operations for operations Enduring Freedom in Afghanistan and New Dawn in Iraq, Odyssey Dawn in Libya, and Joint Task Force Horn of Africa.The general transitioned to the Air Force Reserve in 2004 after joining NASA, where he served as a Senior Executive Service civilian leader in several roles for almost a decade.  In his civilian capacity, he served as a CEO, President, Vice President, and General Manager in both public and private corporations for 9 years, following 25 years of federal service culminating as the Assistant Director for Space and Aeronautics in the White House Office of Science and Technology Policy.
Prior to his current assignment, General Olson served as the Mobilization Assistant to the Commander, 16th Air Force, Air Forces Cyber, and Joint Forces Headquarters-Cyber at Joint Base San Antonio-Lackland where he help lead 49,100 Airmen responsible for Information Warfare.    
---
Related Sessions
Building a Digital Force
Wednesday, August 25, 2021
3:10 pm - 4:10 pm
Track: Symposium Program
---