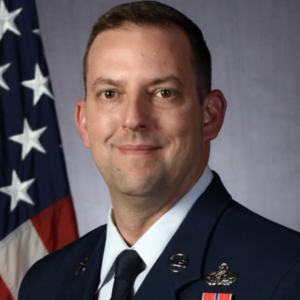 CMSgt Grange Coffin, USSF
Combined Force Space Component Command Senior Enlisted Leader
U.S. Space Command
CMSgt Grange Coffin is the Combined Force Space Component Command Senior Enlisted Leader, U.S. Space Command, U.S. Space Force, Vandenberg Space Force Base, California. As the Command Senior Enlisted Leader of U.S. Space Command's Combined Force Space Component Command, Chief Coffin advises the Commanding General on matters influencing the health, welfare, morale and effective utilization of more than 17,000 joint and combined professionals with a mission to plan, integrate, conduct, and assess global space operations in order to deliver combat relevant space capabilities to Combatant Commanders, Coalition partners, the Joint Force, and the Nation.
Chief Master Sergeant Coffin began his career as a computer, network, cryptographic and switching systems specialist in 1996. He has worked in a wide range of operational specialties including Combat Communications, Base Network Infrastructure, NATO AWACS Mission Systems, Air Operations Center Data Links, Rivet Joint Support, Air Advisor and First Sergeant. He has deployed numerous times to in support of NATO, USSOUTHCOM and USCENTCOM missions in Europe, South America, Kuwait, Qatar, Iraq, Afghanistan, and Africa. Before serving in his current position, he was the
Superintendent, 319th Communications Squadron, Grand Forks AFB, North Dakota.
---
Related Sessions
New Generation Space Leaders: Leadership Exchange "Speed Mentoring"
Monday, April 4, 2022
2:00 pm - 4:00 pm
Track: New Generation Space Leaders
---