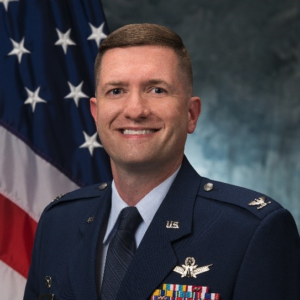 Col. Casey Beard, USSF
Commander of Space Delta 9
U.S. Space Force
Colonel Casey M. Beard is the Commander of Space Delta 9, headquartered at Schriever Space Force Base, Colorado. Delta 9's mission is to prepare, present and project assigned and attached forces for the purpose of conducting protect and defend operations and providing national decision authorities with response options to deter, and, when necessary, defeat orbital threats. Additionally, Delta 9 supports Space Domain Awareness by conducting space-based battlespace characterization operations and conducts on-orbit experimentation and technology demonstrations for the U.S. Space Force.
Col. Beard's previous assignment was as the Deputy Director of the Space Strategy and Plans Directorate in the Office of the Secretary of Defense for Policy, Pentagon, Washington D.C.
Col. Beard earned his commission through the Air Force Reserve Officer Training Corps in 2001 following graduation from Clemson University in Clemson, South Carolina. He has served across multiple operational disciplines including nuclear operations, satellite communications, space situational awareness, space control and operational level command and control. Colonel Beard has served as a squadron commander, deputy division chief, branch chief, executive officer, flight commander, evaluator and instructor.
---
Related Sessions
Space Classified Programing
Monday, April 4, 2022
9:00 am - 5:00 pm
Track: By Invitation Only
---