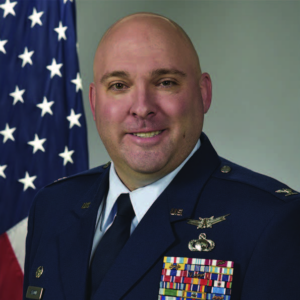 Col. Chandler Atwood, USSF
Commander of Delta 7
U.S. Space Force
Col. Chandler P. Atwood is the Commander of Delta 7, headquartered at Peterson Space Force Base, Colorado. He leads a global enterprise of Space professionals and Airmen. Delta 7 is responsible for providing intelligence data to allow for the detection, characterization and targeting of adversary space capabilities while delivering decision-quality, space-centric Intelligence, Surveillance and Reconnaissance to joint war-fighters and interagency partners to execute the U.S. National Defense Strategy.
Col. Atwood entered the Air Force in May 2001, after graduating summa cum laude from The Citadel in Charleston, South Carolina. A career intelligence officer, he supported fighter aircraft operations and served as an instructor at the U.S. Air Force Weapons School. He served as squadron director of Operations for National Geospatial Intelligence, Measurement and Signatures Intelligence and as squadron commander of National Signals Intelligence and Overhead Persistent Infrared Activities for Space Operations. Col. Atwood has deployed in support of Operations Southern Watch, Northern Watch, Iraqi Freedom and Enduring Freedom.
Prior to assuming his current position, Col. Atwood was the Chief of the ISR Requirements and Capabilities Division, U.S. Special Operations Command Directorate of Intelligence. He oversaw requirements validation and resourcing actions in coordination with Joint Staff and interagency to provide heel-to-toe ISR capabilities to USSOC components and deployed forces. He led the development of the command's ISR Roadmap, the command's strategy for investment across the Future Years Defense Program to develop new ISR capabilities to enable special operations forces core activities across all domains.
---
Related Sessions