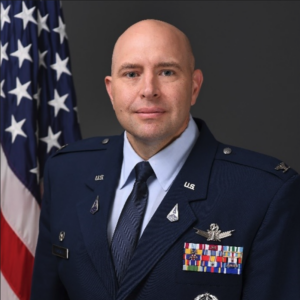 Col. Christopher Fernengel, USSF
Commander of Space Delta 3
U.S. Space Force
Col. Christopher "Trigger" Fernengel is currently assigned as the Commander, Space Delta 3, Space Operations Command, Peterson Space Force Base, Colo. He commands the Space Electromagnetic Warfare delta with personnel deployed worldwide. Space Delta 3 is responsible for preparing and presenting assigned and attached forces for the purpose of executing electromagnetic warfare. The units falling under his command within Space Delta 3 are the 4th, 5th and 16th Space Control Squadrons and the 721st Operations Support Squadron.
Col. Fernengel is a 2001 ROTC graduate of Ohio University. His career includes assignments as a space operator; instructor; tactician; joint planner and strategist; 3-star speechwriter; and, Headquarters of the Air Force's space requirements lead. He deployed to Afghanistan during operations Resolute Support and Freedom's Sentinel as an expeditionary squadron commander. He has also commanded the 4th Space Control Squadron at Peterson Air Force Base, Colo.
Prior to his current assignment, Col. Fernengel was the Director, Operational Capability Requirements for Headquarters, U.S. Space Force at the Pentagon.
---
Related Sessions
Space Classified Programing
Monday, April 4, 2022
9:00 am - 5:00 pm
Track: By Invitation Only
---