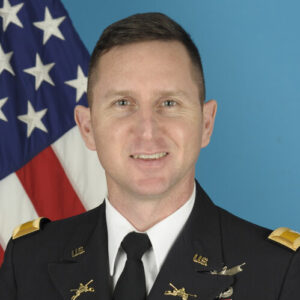 COL Dennis Wille, USA
Chief of Washington Liaison Office
U.S. Space Command
Chief of Legislative Affairs
Colonel Dennis Wille has been an active duty member of the United States Army for more than 26 years. Colonel Wille currently serves at the Pentagon as both the Chief of the Washington Liaison Office and the Chief of Legislative Affairs for United States Space Command.
COL Wille began his career as an Armor officer in 1995 and served in armored cavalry units at Fort Carson, Colorado and Fort Stewart, Georgia. In 2005, Colonel Wille transitioned from Armor into the U.S. Army's cadre of space professionals. In this role, he has served as a space operations staff officer at Fort Hood, Texas; Fort Leavenworth, Kansas; Peterson Air Force Base, Colorado; and Germany. During his career, Colonel Wille has participated in deployments to Bosnia, Kuwait, Iraq, and Afghanistan. In
Iraq, Colonel Wille served as a space operations staff officer for the Multi-National Division – Baghdad from December 2007 to February 2009 where he integrated space and other technical capabilities into the command's counterinsurgency operations. His year-long tour in Afghanistan took place from July 2012 to July 2013 at ISAF Joint Command as a military planner where he focused on integrating non- military applications into NATO's overall approach to defeating the Taliban. Colonel Wille served two years as the Army's senior space officer at United States Army Europe where he supervised the integration of space, cyber, and electronic warfare capabilities into NATO and Joint land operations and exercises. Just prior to joining U.S. Space Command, COL Wille served a year as a military fellow at New America, a D.C.-based think tank, as part of the Chief of Staff of the Army's Senior Fellowship program.
Colonel Wille received his undergraduate degree from the United States Military Academy (1995), a Master of Science in Space Systems Operations from the Naval Postgraduate School (2006), a Master of Military Art and Science (MMAS) from the School for Advanced Military Studies (2012), and an MMAS from the U.S. Army War College (2016).
---
Related Sessions