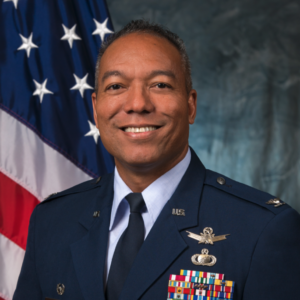 Col. Matthew Holston, USSF
Commander of Delta 8
U.S. Space Force
Col. Matthew E. Holston is the Commander of Delta 8, headquartered at Schriever Space Force Base, Colorado. As commander, he is responsible for more than 1,100 military and Department of Defense civilian personnel serving in five squadrons and one detachment. Delta 8 is responsible for performing around-the-clock global satellite operations on more than 70 satellites across diverse orbital regimes, providing warfighters and other users worldwide with position, navigation and timing capabilities; military satellite communication; intelligence, surveillance and reconnaissance products and environmental and space situational awareness.
Col. Holston earned his commission in 1999 as a graduate of the University of Illinois ROTC program. He has served in a variety of space operations, engineering, program management and staff duties within Air Force Space Command, the National Reconnaissance Office and the Office of the Assistant Secretary of the Air Force for Acquisition.
Prior to his current assignment, he was a student at the Dwight D. Eisenhower School for National Security and Resource Strategy. Additionally, he commanded the 45th Launch Support Squadron at Cape Canaveral Air Force Station, Florida, where he led a government team with more than 70 members to provide launch-base mission assurance for space launch vehicles, Department of Defense satellites and critical launch infrastructure.
---
Related Sessions