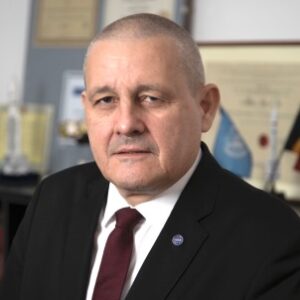 Dr. Marius-Ioan Piso
President and Executive Director
The Romanian Space Agency (ROSA)
Mr. Marius-Ioan Piso, Chief Executive Officer (Director General) of the Romanian Space Agency (ROSA) and President (Chairman of the Board), is a leading executive personality for space in Romania. As an early science and technology professional (doctoral thesis on space-time structure) he has over 35-year experience fully dedicated to the space sector, putting the basis of the Romanian Space Agency (ROSA) and leading the multi-year space and security research programs in Romania.
Mr. Marius-Ioan Piso conducted the two-decades process of joining Romania to the European Space Agency (ESA) and he is the Head of the Romanian Delegation to the ESA Council. He is the Head of the delegation of Romania to the United Nations Committee on the Peaceful Uses of Outer Space (UN-COPUOS) since 1994 and is the current Chair of UN-COPUOS.
Mr. Piso serves as Vice-president of the International Astronautical Academy (IAA) and is a Member of the Board of Trustees since 2007. He is also a member of the European Academy of Sciences and Arts since 2004, the National Secretary for COSPAR since 1994 and principal for the Group on Earth Observations. Mr. Piso has been elected Doctor Honoris Causa of several universities. As a recognition of his achievements, the Asteroid 1981 ET7 was named "Marius-Ioan". 
---
Related Sessions