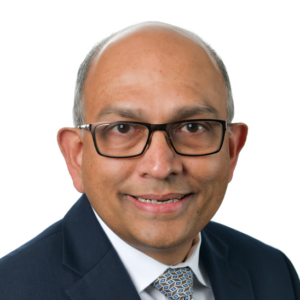 Dr. Rajeev Gopal
Vice President of Advanced Programs, Defense Division
Hughes Network Systems
Rajeev Gopal, vice president, at Hughes Network Systems, LLC (HUGHES), leads the company's advanced engineering programs, developing innovative solutions for resilient and protected communications. Dr. Gopal's work spans Low Earth Orbit (LEO), 5G, and Geostationary Orbit (GEO) High-Throughput Satellite (HTS) technologies, leveraging artificial intelligence (AI), machine learning (ML), software defined networks, cloud, agile methods, and cyber security innovations. 
In more than 25 years at Hughes, Dr. Gopal has held a variety of leadership roles in software development and satellite network system engineering. He was member of the design team for the OneWeb LEO system with 4G/5G features. He earlier served as Network System Engineering (satellite-based IP routing) lead for USAF Transformational Satellite (TSAT) space segment and was on the SPACEWAY® 3 (with onboard Layer 2 packet processing payload) architecture and Mobile Satellite systems (Thuraya, ICO, LEO  Teledesic), development teams.  Dr. Gopal was the chief architect and software manager for the SPACEWAY (packet processing satellite), a $1.8B development, Network Operations Control Center (NOCC). Prior to joining Hughes, Dr. Gopal led automation projects for clinical and cancer research and development at CTIS for US National Cancer Institute.
Dr. Gopal serves on the editorial board of Wiley's International Journal of Satellite Communications and Networking (IJSCN) and is a member of IEEE 5G World Forum and AIAA ICSSC technical program committees. He was the co-chair of the AIAA ICSSC Colloquium on "Satellites and 5G" which was held in the Washington DC area in September 2021.  As a member of the US President's NSTAC Satellite Task Force 2009, he co-authored the pioneering report on commercial satellite communications and cyber security.
Dr. Gopal earned a Doctor of Philosophy Degree in Computer Science from Vanderbilt University and a Bachelor of Engineering Degree in Electrical Engineering from the Birla Institute of Technology & Science (BITS) Pilani.  He has published more than 40 technical papers on topics ranging from satellites, software, 4G/5G, AI/ML, networking, and life science applications; and holds 10 patents on communication systems.
---
Related Sessions
AIxSpace Track
Tuesday, April 5, 2022
10:30 am - 4:00 pm
Track: Track Pass
---