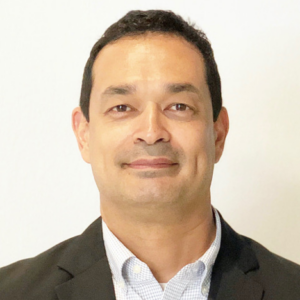 Frank Trevino
Digital Transformation Consultant and Entrepreneur
Space Foundation
Frank Trevino is a sustainability advocate, digital transformation strategist, and entrepreneur focused on AI/ML, 5G, and intelligent platforms around space, telecommunications, and the public sector. He is currently a consultant with the Space Foundation and also oversees the AI/ML strategy for a portfolio of technology companies.
Frank brings 25+ years experience as a corporate executive and entrepreneur. His transformation philosophy is to connect people, products, processes and technology across the digital spectrum. Before his consulting practice, Frank was an ex-pat and senior executive at KT Corporation (Korea Telecom) in South Korea. He focused on smart city and sustainability platforms leading the global digital transformation strategy for this Global 1000 company.  His professional career also took him to Africa and Europe before returning to the United States. Frank held previous executive positions with tech and space companies including vice-president at Digi-Data Corp. (now Synchronoss Technologies) and is a former vice-president at the Space Foundation.
As an entrepreneur, he is currently a co-founder of several tech and space companies, with his most recent venture focusing on space-based data for weather, climate and environmental monitoring to address climate change and sustainability. 
His innovation efforts include participation in the IBM Watson AI XPrize (2016-2018), 2x NASA iTech (2018 & 2019), USAF AFWERX (2019) and USAF CyberWorx (2020) programs, including named a Hello Tomorrow 'Deep Tech Pioneer' (2019). In addition, Frank is a frequent speaker on AI/ML and digital transformation, including speaking at Digital Transformation World and on Yahoo Finance. He also serves as an Advisory Board Member for AI for Good, AI-Forum and Exodus Space.
Frank is currently a Master of Science post-grad at the University of Oxford and holds an MBA from the University of Houston and a Bachelor of Science from the University of Texas at Austin.
---
Related Sessions