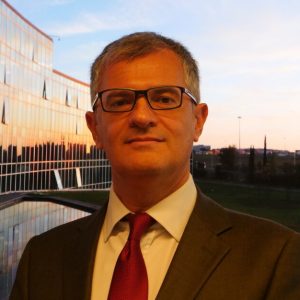 Giorgio Saccoccia
President
Italian Space Agency (ASI)
Born in Belluno, on January 11, 1963, Giorgio Saccoccia is the President of the Italian Space Agency (ASI) since May 2019. He graduated from the University of Pisa (Italy) with a degree in Aerospace Engineering and from Webster University at Leiden (The Netherlands) with a Master in Business Administration.
Before joining ASI, he worked for almost thirty years at the European Space Agency (ESA) in several technical and management positions. In particular, he has been Head of the Electric Propulsion Section, Head of the Propulsion and Aerothermodynamics Division and Acting Head of the Mechanical Engineering Department of ESA. During his experience in ESA, he was in charge in different tasks as project manager and technology coordinator in particular in the field of space exploration.
Giorgio Saccoccia is an Associate Fellow of the AIAA (American Association for Aeronautics and Astronautics), Full Member of the International Academy of Astronautics (IAA) and Emeritus Member of French Aeronautics and Astronautics Association.
---
Related Sessions
Heads of Agency
Wednesday, August 25, 2021
8:40 am - 9:45 am
Track: Symposium Program
---