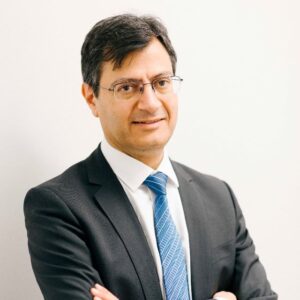 Giuseppe Lenzo
Senior Vice President, Marketing & Sales
Telespazio
Giuseppe Lenzo is the Senior Vice President of Marketing and Sales for the Telespazio group, one of the largest and most innovative space companies.
After some initial experiences with Aeritalia and BDP Difesa e Spazio, he joined Telespazio S.p.A. in 1990.
He had key roles in the most important Italian programs, like ITALSAT and SAX, becoming the leader of the Telespazio system engineering team that supported Motorola in the deployment of the first generation of the Iridium constellation. After that, his responsibilities spanned from Earth Observation to wideband internet satellite systems.
In 2003, he became Director of the Ground Systems Unit at Telespazio and Project Manager of the Cosmo-SkyMed Ground Segment, successfully leading the design and deployment of the Ground Segment as well as of the ILS and Operations Segment. COSMO-SkyMed, that has now reached its Second Generation, is a highly innovative SAR (Synthetic Aperture Radar) Earth Observation Constellation.
From 2009 to 2014, Giuseppe has been Telespazio Vice President of Sales for National Space Institutions, Defence and NATO.
He was appointed Chief Executive Officer of Spaceopal GmbH (the joint venture between Telespazio and DLR, the German Aerospace Center) in 2015; during his mandate, Galileo completed the deployment phase up to the Initial Services Declaration and Spaceopal was awarded the Galileo Service Operator contract (GSOp), with full responsibility to operate the system for the following 10 years.
Since 2018, he is the Senior Vice President of Marketing and Sales for the Telespazio group.
Giuseppe Lenzo has a Master Degree in Aeronautical Engineering from Università di Roma La Sapienza and a Post Graduate Degree in Aerospace Engineering from Scuola Ingegneria Aerospaziale di Roma. He is also an Alumnus of the IESE Business School (Munich, Barcelona) and of the Istituto Alti Studi per la Difesa (Rome).
---
Related Sessions
Space Exploration Track
Wednesday, April 6, 2022
10:30 am - 5:00 pm
Track: Track Pass
---