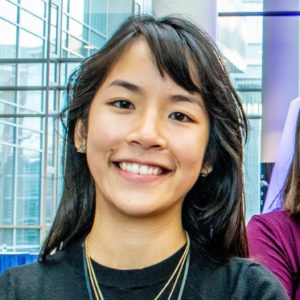 Golda Nguyen

Brooke Owens Fellow
Golda Nguyen is a PhD candidate in the Aeronautics and Astronautics department at MIT. Inspired by STEAM communicators like Carl Sagan, Golda's passion for aerospace is rooted in the personal mantra that "aerospace is for everyone and there is space for everyone in it". Through research and outreach activities, she works to embody and communicate that philosophy. At MIT, Golda conducts research in the Space Enabled Research Group, exploring the use of telehealth in space and Earth-based settings and examining its impact on healthcare access and equity. She also conducts STEM outreach with the Graduate Women in Aerospace group.
Golda received her Master's degree in Aeronautics & Astronautics from MIT in the Human Systems Lab, working with Dr. Leia Stirling. She is also an alumna of Georgia Tech with a Bachelor's degree in mechanical engineering. As a Brooke Owens Fellow, Golda worked at Blue Origin on the New Shepard Crew Capsule. She has also interned at SpaceX, Virgin Galactic (as a Matthew Isakowitz Fellow), NASA Glenn, NASA Armstrong, and Pratt & Whitney.
In her free time, you can find Golda at a piano, trying her hand at painting, or chasing sunshine and mountaintop views.
---
Related Sessions