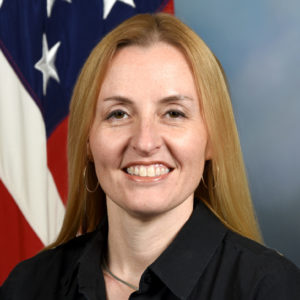 Heidi Robinson
Director for Engagement
U.S. Department of Defense
Heidi Robinson is the Director for Engagement in the Office of Assistant Secretary of Defense for Space Policy in the U.S. Department of Defense. Ms. Robinson leads Department of Defense engagement efforts around the globe by engaging daily with partners and allies to build relationships and common understanding. She explores opportunities to identify projects for partnerships to build resilient space architectures to ensure a safe, stable, and secure space environment. Prior to joining the Space Policy Office, Ms. Robinson was the Deputy Director of the Secretary of Defense Policy Resource Management Office, responsible for the budgeting and execution of a $2.1 billion annual budget, and fifteen support contracts.
Before entering the civil service, Ms. Robinson taught English in Japan for two years in Yamanashi-ken and notes that teaching at three junior high schools and two elementary schools taught her the terrors of the English language (particularly spelling!) and an appreciation for a single syllabary. As a Peace Corps Volunteer in West Africa in Cote d'Ivoire, she lived in a rural village while working at a local health clinic teaching basic health education, drinking water from the well in her backyard, and learning the art of raising banana trees. Highlights of her accomplishments with the Peace Corps include assisting a village build a maternity ward thereby doubling the size of the local healthcare facilities, developing a national-level health education curriculum, and partnering with an Ivoirian non-governmental organization to manage a scholarship program for 35 Ivoirian junior high and high school girls.
Ms. Robinson has an MBA from St. Ambrose University, with a certificate in international management, and a BA from the University of Iowa in Global Studies and Political Science.
---
Related Sessions
New Generation Space Leaders: Breakfast
Thursday, August 26, 2021
7:00 am - 8:45 am
Track: New Generation Space Leaders
---