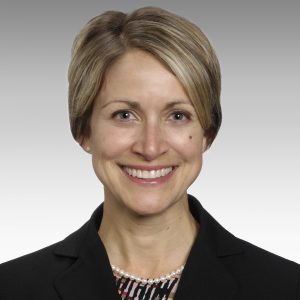 Jacqueline "Jackie" Schmoll
General Manager, Intelligence, Surveillance, Reconnaissance (ISR)
L3Harris Technologies
Jacqueline (Jackie) Schmoll is general manager, ISR, Space Systems within the Space and Airborne Systems segment at L3Harris Technologies. Space and Airborne Systems provides mission solutions for space and airborne domain with defense, intelligence and commercial applications. Schmoll assumed this position in 2020, reporting to the vice president of the RF Systems division within the Space Systems sector. ISR provides high performance, end-to-end responsive space systems solutions for critical missions on reduced timelines. Reconfigurable, multi-mission payloads within the business provide on-orbit mission flexibility solutions for responsive satellites and hosted payloads. Schmoll is responsible for the profit and loss (P&L) of the $200M business responsive space portfolio providing end-to-end space mission capabilities to multiple customers.  
Prior to this role, Schmoll held the role of senior director of strategy and business development reporting to the Space and Airborne Systems vice president of strategy and business development. She was responsible for the Space Systems strategic growth plan, new business orders, competitive capture and leading the team of more than 40 business development and capture professionals representing end-to-end space mission capabilities. Previously, she product line director for Government GEOINT Systems within L3Harris' Geospatial Solutions Division. Her responsibilities included managing a multibillion-dollar portfolio of competitive and sole source IDIQ vehicles with the National Geospatial Agency, multiple systems level applications for Combatant Commands, classified agencies and international governments for mapping, content management, and GEOINT search and retrieval. 
Prior to her role managing a P&L business area, Schmoll served as senior program manager for the ISR business unit at L3Harris. She led a small satellite program for the United States Army after transitioning from her previous role as director of business development with L3Harris' Environmental Solutions business unit, responsible for the business unit growth strategy and capture execution. 
Before joining L3Harris, Schmoll was senior manager of business development and capture management for Lockheed Martin. She was responsible for winning new business accounts with strategic customers in the United States Department of Defense and International community.  Previously, she worked for a.i. solutions, Inc. as a mission analyst where she performed flight dynamics and orbital analysis for NASA and United States Air Force spacecraft missions. She moved into roles of increasing responsibility where she ultimately won and managed new domestic and international business accounts centered around the company's software products. 
Schmoll is a member of the American Institute of Aeronautics and Astronautics and supports the Modeling and Simulation Technical Committee. She received her Master of Business Administration and bachelor's degree in aerospace engineering from the University of Maryland. She successfully completed a L3Harris leadership development program from Wharton School of the University of Pennsylvania. In 2019, Schmoll was awarded the Spacecoast Business 40 Under 40 Award. 
L3Harris Technologies is an agile global aerospace and defense technology innovator, delivering end-to-end solutions that meet customers' mission critical needs. The company provides advanced defense and commercial technologies across air, land, sea, space and cyber domains. www.l3harris.com
---
Related Sessions
Women's Global Gathering Luncheon
Thursday, August 26, 2021
12:15 pm - 1:45 pm
Track: Meal Event, Symposium Program
---