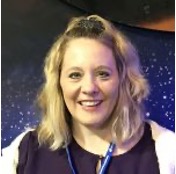 Jodie Guillen
Education Program Manager
Space Foundation
Teacher Liaison Wing Commander
Jodie Guillen is responsible for developing and implementing the extensive space-inspired educational programs at Space Foundation, including Space Across the Curriculum Teacher Professional Development Courses, championing space-inspired educational initiatives on a global scale, and creating innovative curriculum infused with science, technology, engineering, art, and mathematics (STEAM). Guillen also leads Space Foundation's International Teacher Liaison Program, an international cohort of over 300 teachers, from 18 different countries and over 40 US States and Territories!
Prior to joining the Space Foundation team, Guillen taught Earth, Space, and Life Science to middle school students in Moriarty, New Mexico, where she secured tens of thousands of dollars in grant money for her Title 1 school, providing life-altering experiences for her students along the way. In addition, she developed a Space Science STEAM elective from the ground up, all of which was aligned to the Next Generation Science standards. Guillen also spent three weeks in Shenzhen, China teaching a Space STEAM camp to Chinese students in K-5th grades.
Guillen has won several awards for her teaching, including: the 2017 Cheri Brinley Outstanding Teacher Award from Space Center Houston, the 2016-2017 Jacobs Educator Award from the Indiana University School of Education, and the 2016 New Mexico Academy of Science (NMAS) Outstanding Science Teacher Award. She is also a 2018 Teach to Lead Participant, a member of the Space Expedition Educator crew through Space Center Houston, and a proud Space Station Ambassador through ISS National Laboratories. Guillen earned both her Bachelor's Degree in Elementary Education, with a focus on science and Teaching English as a Second Language (TESOL), as well as her Master's Degree in Curriculum and Instruction, from Grand Canyon University in Phoenix, Arizona.
---
Related Sessions