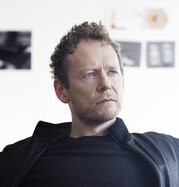 Johannes Torpe
Creative Director
Johannes Torpe Studios
From nightclub design to immersive dining experiences and sensory retail solutions for high-end brands; For over 20 years the founder and vision of Johannes Torpe Studios, Danish designer Johannes Torpe, has helped clients worldwide build and strengthen their brands through playful and thought-provoking design solutions.
Guided by the belief that we do our best work when we pursue things that move us, Johannes is an advocate for an unrestrained and intuitive approach to design and life in general. He left school at the age of 12 to play the drums and is completely self-taught as a creative practitioner. 
Having worked in most areas of the world Johannes' practice has achieved a universality that speaks for itself. His diverse portfolio spans from interior design, industrial design, furniture design to large scale architectural concepts. To Johannes creativity is neither confined to disciplines nor industries. He simply calls himself a design activist, dedicated to telling compelling and authentic stories through design.
As creative director of the studio, Johannes channels his intuitive approach and comprehensive experience from the many aspects of the design and creative industries he has worked in, into creating an environment where the designers and projects can grow to reach their full potential.
In 2011 Johannes was named Group Creative Director of renowned high-end consumer electronics brand Bang & Olufsen, injecting new energy into the legendary brand, channeling his own passions for music, storytelling and brand-building. Johannes relinquished the role in October 2015, but continues to conduct creative consultancy work for brands.
When time allows Johannes enjoys sharing his design philosophy and unique insights into the business of design. He has spoken at events such as Design Indaba, MIPIM, The International New York Times Luxury Conference and at renowned schools like Savannah College of Art and Design, Esade and Ecole Hôtelière de Lausanne.
---
Related Sessions
New Generation Space Leaders: Welcome Luncheon
Monday, April 4, 2022
12:30 pm - 1:45 pm
Track: New Generation Space Leaders
---
Workforce Development Track Session
Thursday, April 7, 2022
9:00 am - 11:45 am
Track: Symposium Program, Track Pass
---