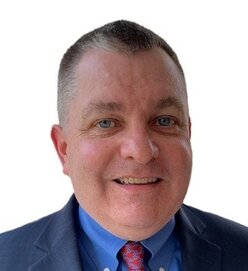 John "J.R." Riordan
Senior Vice President, Business Development
Parsons
John (J.R.) Riordan is Senior Vice President, Business Development, leading capture efforts for Parsons' Space and Geospatial organization. In this role, he is responsible for accelerating the company's already robust capabilities in joint all-domain operations, space and geospatial operations.
J.R. joined the company in 2020 with a strong Air Force, space, missile, cyber, intelligence, and Capitol Hill background. He previously served as a Professional Staff Member at the Senate Armed Services Committee, U.S. Senate in Washington D.C., where he provided oversight for nuclear and strategic forces; arms control and non-proliferation programs; Department of Energy defense, nuclear and defense environmental management programs, and ballistic missile defense.
J.R. was the primary Senate staff architect of the U.S. Space Force and a senior member of the Committee for the establishment of the U.S. Space Force.
Before his government service, J.R. held progressive roles in government professional services. As President of IMT LLC, he led the company's expansion and growth providing­­­­­­­­ information assurance, system sustainment, and technical support for complex, mission-critical needs.
Earlier in his career, Mr. Riordan served 23 years in the U.S. Air Force, where he retired as a Colonel in 2011 as the Chief of Staff for the Space & Global Integrated Intelligence, Surveillance & Reconnaissance (ISR) Division, the Directorate of Programs, and the Deputy Chief of Staff, Strategic Plans and Programs, Headquarters U.S. Air Force, Washington, D.C.
J.R. was commissioned a Second Lieutenant through the Reserve Officer Training Program at Montclair State University and the New Jersey Institute of Technology, where he was a Distinguished Graduate. He also received his MBA from Regis University in Denver, Colorado, as well as a Master's in National Security Strategy from National Defense University, National War College at Fort McNair, Washington D.C.
J.R. is a volunteer with the Executive Transition Assistance Program at the Family Services Support Center, Headquarters, U.S. Air Force at the Pentagon, and he continues to serve as an advisor to the current President of the National Space Club and Foundation.  He serves on the Board of Directors for both the Space Force Association as well as the National Security Space Association.
---
Related Sessions
New Generation Space Leaders: Leadership Exchange "Speed Mentoring"
Monday, August 23, 2021
2:00 pm - 4:00 pm
Track: New Generation Space Leaders
---