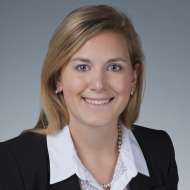 Kristin Shahady
Manager, Fusion Forum
Space Generation Advisory Council (SGAC)
Kristin Shahady is a systems engineer at Ball Aerospace in Colorado working as a data analyst to create satellite mission data to test payloads and processing software. She has a Bachelor's degree in astrophysics from Florida Institute of Technology and is pursuing her space studies Master's degree at the University of North Dakota.
Previously, she worked for the Kennedy Space Center's education program and had an internship with Space Telescope Science Institute to optimize Hubble archived data with Artificial Neural Networks.
In 2015, Kristin worked for Lockheed Martin Missiles and Fire Control as a systems engineer designing mission planning software and optical systems. 
In 2016, she was accepted as a delegate for Space Generation Fusion Forum where she landed her current job at Ball Aerospace. Since then, her SGAC contributions included organizing two SGFF's and NPoC for the U.S. These roles landed her the role of SGFF 2021 Manager.
Additionally, she is on the employment committee for the American Astronomical Society and is Student Training Coordinator for Citizens for Space Exploration.
---
Related Sessions
Report from Fusion Forum
Wednesday, August 25, 2021
2:20 pm - 2:40 pm
Track: Symposium Program
---
Master Moderator: Kristin Shahady
Wednesday, August 25, 2021
8:00 am - 5:00 pm
Track: Symposium Program
---