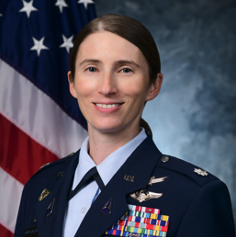 Lt. Col. Anna E. Gunn-Golkin
Commander of the 3rd Test and Evaluation Squadron
United States Space Force
Lt Col Anna Gunn-Golkin is the Commander of the 3rd Test and Evaluation Squadron at Schriever Space Force Base in Colorado Springs, Colorado. The 3rd Test and Evaluation Squadron is the Space Force's orbital warfare test organization.  Utilizing innovative and scientific methodologies, the 3rd is accelerating the transition of research and development concepts into operational space capabilities. Lt Col Gunn-Golkin received her commission from the U.S. Air Force Academy in 2005 and is a distinguished graduate of the U.S. Air Force Test Pilot School.
Her background includes various duties in space launch operations, fighter, helicopter, and unmanned system flight test, instructing astronautics and rocket propulsion at the United States Air Force Academy, developing national space policy, and leading advanced multi-domain systems acquisition and fielding.  Lt Col Gunn-Golkin served as a Service Chiefs Fellow at the Defense Advanced Research Projects Agency (DARPA) and a Strategic Policy Fellow at the National Aeronautics and Space Administration (NASA). She was detailed as a guest instructor at the inaugural Space Test Fundamentals course at the Test Pilot School.
Prior to her assignment to the 3rd Test and Evaluation Squadron, Lt Col Gunn-Golkin was the Chief of Staff, Department of the Air Force Rapid Capabilities Office where she directed program integration and served as legislative liaison for a $40B classified portfolio, including the X-37B, B-21, and other high priority programs.
Lt Col Gunn-Golkin's experience in air and space test and operations includes over 600 flight hours in the HH-60U and F‑16D, F/A-18F and more than 35 other aircraft, FalconSat 3 and 6, multiple unmanned aerial systems, Minotaur launch vehicle, and Ground Based Missile Defense.
---
Related Sessions
Teacher Liaison Workshop
Monday, April 4, 2022
8:00 am - 3:15 pm
Track: Educators and Students
---