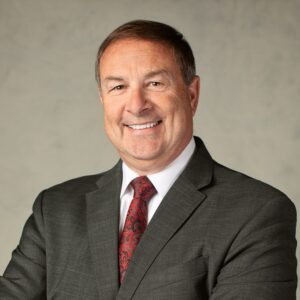 Lt. Gen. Christopher Bogdan, USAF (Ret.)
Senior Vice President
Booz Allen Hamilton
Chris Bogdan is a Senior Vice President at Booz Allen Hamilton. He is responsible for a portfolio that includes the U.S. Air Force, U.S. Space Force, and NASA.
Chris joined Booz Allen in November 2017 after a 34-year military career in the United States Air Force where he retired as a Lieutenant General. During his military career Chris was an operational pilot, a test pilot flying over 30 different kinds of aircraft, and a senior AF Acquisition Officer, where he finished his career running major programs for the Air Force and the Department of Defense. As Major General, Chris ran the Air Force's KC-46 tanker program and his last assignment from 2012 to 2017 he ran DoD's largest, most complex program, the F-35 Joint Strike Fighter Program. 
Chris serves as the Vice Chairman of the Board for the Space Information Sharing and Analysis Center and serves on the Board of Directors for Blue Star Families. He is the Chair of the NDIA Combat Survivability Division, a member of the 2020 Defense Science Board, a lifetime member of the Air Force Association and is member of the Society of Experimental Test Pilots. 
He holds an M.S. with Distinction in Engineering Management from California State University and an M.S. in National Resource Strategy as a Distinguished Graduate from the Industrial College of the Armed Forces. He holds a B.S. in Aeronautical Engineering from the U.S. Air Force Academy, where he was a Distinguished Graduate and earned the Outstanding Cadet in Aeronautical Engineering Award. 
---
Related Sessions
Space as a Critical Infrastructure
Thursday, August 26, 2021
3:30 pm - 4:30 pm
Track: Symposium Program
---