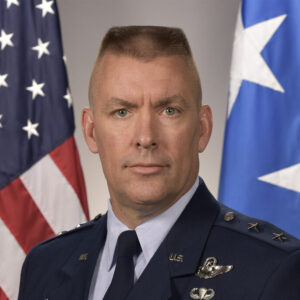 Maj. Gen. Brook J. Leonard, USAF
Chief of Staff
U.S. Space Command
Maj. Gen. Brook J. Leonard is the Chief of Staff, United States Space Command, Peterson Space Force Base, Colorado. He is the principal advisor to the USSPACECOM commander and deputy commander, and directs the activities of the command staff in order to deter aggression and develop combat ready forces prepared to fight for and preserve United States and allied space superiority. He chairs numerous boards, oversees the command's corporate process and serves as the director of the commander's staff.
Prior to assuming his current position, General Leonard was the Director of Air Operations, Combined Joint Task Force, Operation INHERENT RESOLVE, the Commander, 321st Air Expeditionary Wing, and the Commander, Task Force – Air, Union III, Baghdad, Iraq where he was responsible for leading a task-organized unit across 11 locations in Iraq and Syria to defeat ISIS and enable security across Iraq through training, advising, and assisting, airfield operations, cargo processing, and personnel movement in support of Coalition and Partner forces. Additionally, General Leonard served as the Deputy Commander of the 9th Air Expeditionary Task Force, Levant.
General Leonard entered the Air Force in May 1992 as a graduate of the U.S. Air Force Academy. He earned his pilot wings from Euro-NATO Joint Jet Pilot Training at Sheppard Air Force Base, Texas, and was a distinguished graduate of the F-16 Initial Qualification Course at Luke AFB in 1995. He has held a variety of flying assignments and has commanded the 16th Weapons Squadron, USAF Weapons School, Nellis AFB, Nevada, 451st Expeditionary Operations Group, Kandahar Airfield, Afghanistan, 51st Fighter Wing, Osan Air Base, South Korea, the 56th Fighter Wing, Luke AFB, Arizona, and 321st Air Expeditionary Wing, Baghdad, Iraq. The general served on the Joint Staff as Division Chief, Iran and Levant Division, Deputy Directorate Political-Military Affairs Middle East and was the Senior Military Assistant to the Secretary of the Air Force. He is a command pilot with more than 3,000 flight hours, to include 576 combat hours.
---
Related Sessions