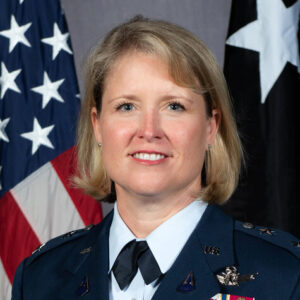 Maj. Gen. DeAnna M. Burt, USSF
Commander, Combined Force Space Component Command, U.S. Space Command

Deputy Commander, Space Operations Command, U.S. Space Force
Maj. Gen. DeAnna M. Burt is the Commander, Combined Force Space Component Command, U.S. Space Command, and Vice Commander, Space Operations Command, U.S. Space Force, Vandenberg Space Force Base, California. As Commander of U.S. Space Command's Combined Force Space Component Command, she leads more than 17,000 joint and combined personnel with a mission to plan, integrate, conduct, and assess global space operations to deliver combat relevant space capabilities to combatant commanders, Coalition partners, the joint force, and the nation. Maj. Gen. Burt plans and executes space operations through four distinct and geographically dispersed operations centers, including: the Combined Space Operations Center at Vandenberg SFB, Calif.; the Missile Warning Center at Cheyenne Mountain Space Force Station, Colorado.; the Joint Overhead Persistent Infrared Planning Center at Buckley Garrison, Colo.; and the Joint Navigation Warfare Center located at Kirtland Air Force Base, New Mexico.
Maj. Gen. Burt entered the Air Force in 1991 as a distinguished graduate of the Air Force ROTC program at Embry-Riddle Aeronautical University. Her career has included numerous satellite operations and staff positions in Air Force Space Command and U.S. European Command. Maj. Gen. Burt has commanded the 2nd Space Operations Squadron, the 460th Operations Group and the 50th Space Wing. She is a graduate and former instructor of the U.S. Air Force Weapons School and a graduate of the School of Advanced Air and Space Studies.
Prior to her current assignment, Maj. Gen. Burt was the Director of Operations and Communications, Headquarters Space Operations Command, Peterson SFB, Colo.
---
Related Sessions