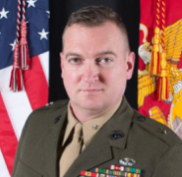 MajGen Karl D. Pierson, USMC
Deputy Commanding General, U.S. Marine Forces Cyber
U.S. Marine Corps
Born in New York and raised in Ridgewood, New Jersey, Major General Doug Pierson graduated from Ohio Wesleyan University with a B.A. in Politics & Government, and commissioned as a 2ndLt in June 1992.
Following The Basic School graduation in 1993, he reported to Twentynine Palms, CA as a Logistics Officer and regularly participated in exercises and Middle East operations with Combat Service Support Group-1, 7th Marines, and 1st Tank Battalion. Appointed Team Captain of the 29 Palms Base Pistol & Rifle Team, he promoted to First Lieutenant in June 1994 and Captain in August 1996.
Transitioning to the Reserves, Captain Pierson served as logistics coordinator and special projects officer for Reserve Affairs Manpower and Marine Corps Systems Command in Quantico, VA through 2003 and promoted to Major during that time. He then assumed the role of Alpha Company Commander with 4th Landing Support Battalion at Fort Lewis, WA from 2003 through 2008 where his company received the prestigious Arthur B. Hansen trophy. In 2004, he mobilized to support 1st Marine Expeditionary Force in Al Anbar Province, Iraq where he assumed command of Landing Support Company, Combat Service Support Battalion-7, who focused on a wide array of missions from air delivery, helicopter support, and airfield control groups to Joint Service and Iraqi National Assembly Election detachments. He returned to Iraq for another tour as Deputy G4/Operations Officer with 1st Marine Logistics Group (Fwd) in 2006 and promoted to Lieutenant Colonel in 2008.
From February 2008 to July 2012, LtCol Pierson served as Asst G3, 4th MLG in New Orleans, focusing on the Korea Theater of Operations before taking command of 4th Maintenance Battalion and CLB-451 in Charlotte, NC from July 2012 to August 2014. During that time, the battalion participated in two Integrated Training Exercises as MAGTF Logistics Command Element and provided 4th MLG with a ready battalion for three consecutive years.
Promoted to Colonel in November 2014, Col Pierson was AC/S G-4 for 4th MLG and then assigned to CLR-4 in Kansas City, MO as Deputy Commander, where he filled a variety of roles including Chief of Staff for JTF-African Lion 16 held in the Kingdom of Morocco. He promoted to Brigadier General and assumed command of 4th Marine Logistics Group in 2018.
In his civilian occupation, MajGen Pierson currently works for Microsoft, is an active mountaineer having climbed several of the world's highest mountains, is a field team member of Seattle Mountain Rescue, and sits on the Board of Directors for two international NGO/nonprofits. MajGen Pierson's personal decorations include the Meritorious Service Medal with three gold stars, and the Navy/Marine Corps Achievement Medal. He also holds an MBA from the College of William and Mary and a Master of Strategic Studies from the U.S. Army War College. He is married to his beautiful wife Maggie and is father to two spirited children: Olivia and Mason.
---
Related Sessions