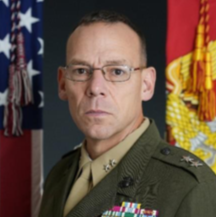 MajGen Ryan Heritage, USMC
Commander, Marine Corps Forces Cyberspace Command
Marine Corps Forces Space Command
Major General Heritage graduated from George Washington University in Washington, D.C. in 1990. He was commissioned through the Naval Reserve Officer Training Corps Program. He is an infantry officer by trade who has served with 3d Battalion, 8th Marines; 3d Battalion, 2d Marines and was the Commanding Officer for 6th Marine Regiment in 2013. As a staff officer he has served as the current operations officer for II Marine Expeditionary Force (Forward) Iraq; Future Operations Officer, 2d Marine Division, Camp Lejeune, NC; current operations officer for III Marine Expeditionary Force, Okinawa, Japan and Deputy Commander, Marine Forces Cyberspace Command, FT Meade, MD.
His service in the supporting establishment and joint assignments include: Marine Barracks, Washington, D.C.; Commanding Officer Weapons Training Battalion, Camp Lejeune, N.C.; Program Analysis and Evaluation Division, Programs and Resources Department, Headquarters, U.S. Marine Corps; and most recently, Commanding General Marine Corps Recruit Depot San Diego and the Western Recruiting Region. His joint assignments include future operations planner Headquarters, U.S. Southern Command, Miami, FL and Deputy Director for Future Operations, J-3, U.S. Cyber Command, FT Meade, MD
In addition to The Basic School and Infantry Officers Course, Major General Heritage is a graduate of the Amphibious Warfare School, Marine Corps Command and Staff College, Joint and Combined Warfighting School (JPME II), the Army War College and Harvard Business School's Advanced Management Program.
His personal decorations include the Defense Superior Service Medal, Defense Meritorious Service Medal, Legion of Merit with gold star, Meritorious Service Medal with four gold stars, Joint Service Commendation Medal, Navy and Marine Corps Commendation Medal, and Joint Service Achievement Medal.
---
Related Sessions
Navy and Space
Thursday, August 26, 2021
8:30 am - 9:30 am
Track: Symposium Program
---