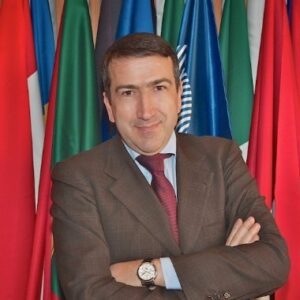 Marco Ferrazzani
Legal Counsel & Head of the Legal Services Department
European Space Agency (ESA)
Marco Ferrazzani is the Legal Counsel and Head of the Legal Services department at the European Space Agency, based at its headquarters in Paris, France. In this position, he is providing a full range of legal services to the Agency particularly in matters of both public and private law, working on the legal and programmatic aspects of space missions, contributing to the development of ESA policy and participating in the high-level negotiations of international agreements.
As ESA's Legal Counsel, he is the advisor to the ESA Director General and to the ESA Council for all institutional and legal matters, including the interpretation of the ESA Convention and all relevant legal instruments. In addition to managing a team of international legal officers his role as Head of the Legal Services department at ESA is to advise ESA's organs and its Member States, on a day-to-day basis, at the ESA Council meetings and ESA Ministerial, on a wide variety of legal matters. These include protecting and defending ESA's rights and position, identifying risks and devising legal solutions to mitigate these, preparing in the drafting of agreements, conducting international negotiations as well as preparing institutional decisions, resolutions, declarations and other legal instruments for the execution of European space programmes. In this capacity, he is advising on multilateral discussions, draft proposals for Member States' decisions on space programs and strongly support cooperation with other space agencies, international organizations as well as the governments and institutions of states outside of ESA.
In his current function he is representing ESA at international conferences, such as to the Legal Sub- Committee of the UN Committee on the Peaceful Uses of Outer Space (UNCOPUOS).
Moreover, he is sitting on a number of boards including those of the European Centre for Space Law (ECSL), of the International Institute of Space Law (IISL) and for the German Journal of Air and Space Law, the oldest legal journal in the field of aerospace.
Marco Ferrazzani has a law doctor degree from University of Naples and attended postgraduate law courses from Harvard and Georgetown University. He authored over 100 conference and journal publications and has both led and contributed to various international panel discussions and specialist and University courses on the laws applicable to Outer space and on European institutional scenarios.
He has been recently awarded the honorific title of Cavaliere (Knight) by the President of the Italian Republic.
---
Related Sessions
Space Law Workshop
Monday, April 4, 2022
1:15 pm - 5:15 pm
Track: Affiliated Event
---
Space Exploration Track
Wednesday, April 6, 2022
10:30 am - 5:00 pm
Track: Track Pass
---