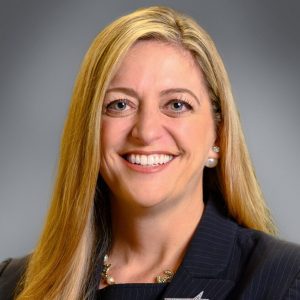 Maria Demaree
Vice President and General Manager, Special Programs
Lockheed Martin Space
Maria Demaree is the Vice President and General Manager for Lockheed Martin Space Special Programs, where her portfolio is focused on delivering high-performance systems and innovative concepts for critical national security space applications. She is responsible for multiple complex development programs, operations and maintenance contracts and research and development pursuits. She provides advocacy within the legislative and executive branches for programs of record, policies related to the content of the business and the future direction of follow-on architectures.
Previously, Ms. Demaree was Vice President and General Manager, Mission Solutions, Lockheed Martin Space. In this capacity, she had responsibility for 4,500 employees and an annual sales base of over $1.7B in support of government defense and intelligence agencies. Mission Solutions delivers innovative enterprise, cloud and application-based solutions for mission management, command and control, collection orchestration and tasking, processing, and data analytics, along with premier operations and sustainment of mission critical space-based programs.
Prior, Ms. Demaree was Vice President of Engineering, Mission Systems and Operations, for Lockheed Martin's Space Systems Company. In that role, she was responsible for matrix management and leadership of 5,000 engineers engaged in programs from satellite ground systems and flight software to detailed mission analytics and operations. She previously served as Director of Mission Systems for Lockheed Martin's Information Systems & Global Solutions.
Additionally, Ms. Demaree served in Lockheed Martin's Enterprise Business Services as Director of Enterprise Desktop Services. She was responsible for the Lockheed Martin Service Desk, Unified Communications (E-mail, Mobility Services and Webcasting); Desktop Services and SharePoint implementation, with a team of 700+ matrixed employees and annual budget of $90M.
In Lockheed Martin Space, Ms. Demaree has been a thought leader in Software Defined Satellite architectures, Joint All Domain Operations, Software Factory and digital transformation, remote workforce initiatives and pursuit of 5G from Space. She has led critical initiatives: Lockheed Martin corporation mobile transformation from Blackberry to iPhone, key leadership role Army Global Command and Control system red to green, and transition of 4,100 employees into the LM Space organization.
Ms. Demaree graduated Pennsylvania State University with a bachelor's degree in Computer Science, and University of Pennsylvania with a master's degree in Systems Engineering.
Ms. Demaree serves on the Lockheed Martin Corporation Executive Inclusion Council, Chair of the Space Women Impact Network (WIN), Chair of the Zeta Board of Directors, and the National Space Security Association Board of Directors. She is a March of Dimes Heroine in Technology Lifetime Achievement award recipient, and was named to the 2018 FedScoop Top Women in Tech.
---
Related Sessions
New Generation Space Leaders: Leadership Exchange "Speed Mentoring"
Monday, August 23, 2021
2:00 pm - 4:00 pm
Track: New Generation Space Leaders
---