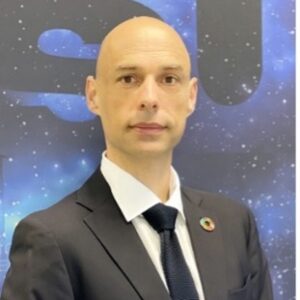 Nicolas Peter
Professor of Space Policy and International Affairs
International Space University (ISU)
Nicolas Peter is Professor of Space Policy and International Affairs at the International Space University (ISU) seconded by the European Space Agency (ESA). Mr Peter is also Head of the "Space Policy and Entrepreneurship lab" that is a dedicated research laboratory addressing the issues and trends in the domains of space policy and the space economy, including New Space worldwide. Besides teaching at ISU, he is also lecturing at European and international universities and business schools on various space issues and is frequent speakers in media.
Prior to his appointment at ISU, Mr Peter has been the Head of International Affairs at the German Aerospace Center (DLR). Nicolas Peter has also been working at the European Commission supporting among other the 2016 EC Space Strategy development. He has also been working at ESA in the Director General's Cabinet and Strategy department, as well as the European Space Policy Institute (ESPI) and the George Washington University's (GWU) Space Policy Institute.
Mr Peter has 20+ years of international experience in space policy on 4 continents and 8 countries. He has published over 100 reports, book chapters and articles in peer-reviewed journals, and presented at international conferences related to space activities. He has also co-edited three books on space affairs and is a regular peer-reviewer for the Journals Space Policy and Acta Astronautica. He is also Board of Director of the Women in Aerospace Europe (WIA-E) in charge of corporate relations and partnerships and an Honorary Board Member of the Space Generation Advisory Council (SGAC) and a winner of the inaugural IAF Young Space Leader award.
---
Related Sessions
Workforce Development Track Session
Thursday, April 7, 2022
9:00 am - 11:45 am
Track: Symposium Program, Track Pass
---