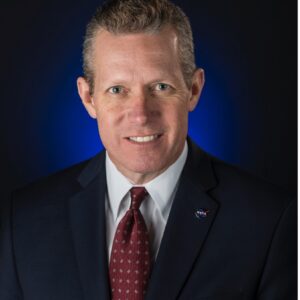 Philip McAlister
Director, Commercial Spaceflight
NASA
Philip McAlister joined NASA in 2005, and he is currently the director of the Commercial Spaceflight Division at NASA Headquarters where he advises NASA about issues pertaining to the design, development, and demonstration and services of commercial spaceflight vehicles, systems, and capabilities. McAlister oversees multiple programs at NASA: the Commercial Crew Program, including the Suborbital Crew project; and the Commercial Low-Earth Orbit (LEO) Development Program, which includes private astronaut missions to the International Space Station (ISS) and the development of new commercial space destinations.
Prior to this assignment, McAlister oversaw the successful Commercial Orbital Transportation Services (COTS) which facilitated the development of the SpaceX Dragon and Northrop Grumman (previously Orbital Sciences) Cygnus cargo transportation systems.  He also served as the executive director for the "Review of U.S. Human Spaceflight Plans Committee" (also known as the Augustine Committee). In 2010, he earned NASA's Exceptional Service Medal. 
Prior to NASA, he was a director at Futron Corporation where he managed a division that performed aerospace business analysis and technology assessments.  Before joining Futron, he served as a senior manager during a 10-year career at TRW Corporation.
McAlister earmned a Master of Business Administration degree from Averett University, a Master of Science degree in Systems Engineering from George Mason University, and a Bachelor of Science degree in Physical Sciences from the University of Maryland.
---
Related Sessions
Space Exploration Track
Wednesday, April 6, 2022
10:30 am - 5:00 pm
Track: Track Pass
---