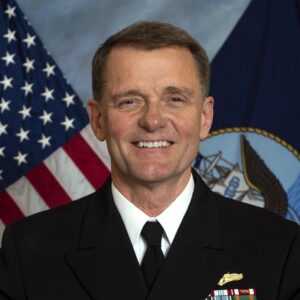 RADM Gene Price, USN
Vice Commander
Naval Information Forces
Rear Adm. Gene Price was commissioned an intelligence ocer in 1986 after earning his Bachelor of Arts at the University of Louisville. As a junior ocer he served as targeteer/analyst during the war in Kosovo, as a watch stander on United States European Command's Crisis Action Team, and as political advisor for NATO's Ambassador to Macedonia. Price was mobilized to U.S. Naval Forces Central Command in 2003, where he supported Operation Iraqi Freedom as Chief of Iraqi Maritime Analysis, and later led a maritime-focused analysis team in southern Iraq. Price led Naval Reserve (NR) Naval Forces Central Command 0267, recognized as Navy Reserve Intelligence Command of the Year, and led U.S. Indo-Pacic Command's (USINDOPACOM) Joint Detachment Minneapolis, recognized twice as
USINDOPACOM's reserve detachment of the year. He served in major command at Naval Intelligence Reserve Region Southeast. Price again mobilized in 2011 to Afghanistan where he served as senior U.S. intelligence ocer at Region North in Mazar-e-Sharif, and led its Multinational Fusion Center in conjunction with U.S. coalition partners. After redeployment, he was assigned to Information Dominance Corps Reserve Command.
Price promoted to ag and was recalled to active duty as Fleet Cyber Command/U.S. Tenth Fleet Deputy Commander 2015-2017. He next assumed command of Naval Information Forces Reserve (CNIFR) in 2017. In 2019, he was re-assigned as commander, Oce of Naval Intelligence, and director, National Maritime Intelligence-Integration Oce. He returned to CNIFR that same year. In 2020 he was assigned as vice commander, Naval Information Forces.
Price was selected as the U.S. Navy's senior representative for the 58th Presidential Inauguration in 2017 and is a member of the Navy's Space Cadre. As a civilian, he is an attorney and Member of Frost Brown Todd LLC, a nationally-ranked law rm, and has been selected by his peers as a member of "Best Lawyers in America". He and his wife Diane have six children and reside in Louisville, Kentucky when not on active duty.
---
Related Sessions
Navy and Space
Thursday, August 26, 2021
8:30 am - 9:30 am
Track: Symposium Program
---