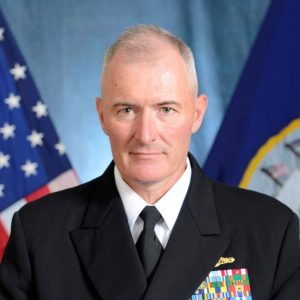 RADM Michael Bernacchi, USN
Director Strategy, Plans and Policy, J5
U.S. Space Command
Rear Adm. Mike Bernacchi is a native of Pleasant Ridge, Michigan, and graduated from the University of Detroit with a Bachelor of Science in Biology and holds master's degrees from University of Michigan in nuclear engineering and industrial engineering.
His operational tours include service aboard both attack and ballistic missile submarines including USS James Madison (SSBN 627), USS Albuquerque (SSN 706) and USS Santa Fe (SSN 763). He commanded USS Alexandria (SSN 757) and was commodore of Submarine Squadron 4 in Groton, Connecticut. Ashore, he served as executive assistant to the Vice Chief of Naval Operations; executive assistant to the Chief of Naval Personnel; chief of staff for Submarine Group 2; deputy nuclear community program manager; special assistant to Naval Reactors for Office Matters; and cruise missile planner for theater operations at United States Strategic Command.
Previous flag assignments include commander, Naval Service Training Command where he was privileged to serve with a staff that was recognized with a Navy Unit Commendation, at the time only five previously awarded to shore commands in the last 30 years and Command Submarine Group 10 in Kings Bay Georgia.
He is entitled to wear the Legion of Merit (eight awards), Defense Meritorious Service Medal, and various personal, unit and service awards. He was recognized by the Naval League of the United States while commanding officer of USS Alexandria with the John Paul Jones Award for Inspirational Leadership.
---
Related Sessions
Building & Utilizing a Space Warfighter: U.S. Space Force and U.S. Space Command Perspectives
Tuesday, August 24, 2021
2:45 pm - 3:20 pm
Track: Symposium Program
---
Navy and Space
Thursday, August 26, 2021
8:30 am - 9:30 am
Track: Symposium Program
---