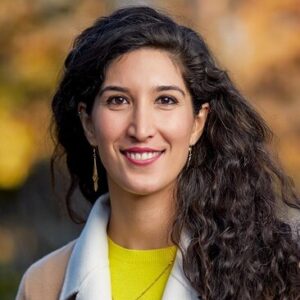 Dr. Raha Hakimdavar
Director of Space Sciences
Ball Aerospace
Raha Hakimdavar is the Director of Space Sciences at Ball Aerospace, where she leads strategic engagements with the government and broader space sciences community.
Previously, Dr. Hakimdavar was a hydrologist and acting national program lead in remote sensing research at the U.S. Forest Service where, among other efforts, she implemented novel approaches to assess forest and aquatic resilience under a changing climate. She led research on the integration of Earth observations into the United Nations Sustainable Development Goals and co- ordinated Earth science research and applications across NASA centers and headquarters during her Presidential Management Fellowship appointment at NASA's Goddard Space Flight Center.
Prior to her tenure with government, Dr. Hakimdavar was a flood risk consultant with UN Environment and the World Bank in the Caribbean, where she notably helped establish the first fully integrated satellite hydro-meteorological network to support disaster risk reduction, agroforestry, and hydropower development.
Dr. Hakimdavar earned a B.S. in civil engineering from California State Polytechnic University and a M.S. and Ph.D. in civil engineering with an emphasis on hydrology from Columbia University. She was awarded the NSF IGERT Fellowship for interdisciplinary research, a NAF-Fulbright research fellowship in water management to the Netherlands, and the KLM Airlines Sustainability and Innovation award for her work and research on hydro-ecology.
---
Related Sessions
New Generation Space Leaders: Leadership Exchange "Speed Mentoring"
Monday, August 23, 2021
2:00 pm - 4:00 pm
Track: New Generation Space Leaders
---