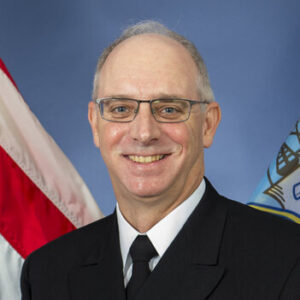 RDML Stephen Donald, USN
Reserve Deputy Commander
TENTH Fleet
Rear Adm. Stephen Donald, a native of Montgomery, Alabama, holds a Bachelor of Science in Computer Science from the Georgia Institute of Technology, and a Master of Science in Systems Engineering (Information Warfare) and Computer Science from the Naval Postgraduate School, as well as a Master of Science in Command and Staff Diploma from the Naval War College.
Donald was commissioned in 1995 from the Georgia Institute of Technology Naval Reserve Officers Training Corps program and served as an active duty surface warfare officer onboard USS Shasta (AE33) as the damage control assistant and USS Monterey (CG61) as communications and information systems officer. He laterally transferred to the Information Warfare community and served at the predecessor of the Navy Cyber Warfare Development Group developing, deploying, and operating advanced computer network operations capabilities for the Navy.
Donald was mobilized to Baghdad, Iraq in 2009, he served as deputy director of intelligence for Combined Joint Task Force Troy and provided Counter Improvised Explosive Device intelligence to forward deployed forces and CONUS agencies. Ordered to active duty in 2016-2017, he helped establish U.S. Cyber Command's Joint Task Force ARES, the command's task force countering the Islamic State in the Iraq and ash Sham's use of cyberspace. In 2019, he mobilized in support of Operations Resolute Support and Freedom's Sentinel, and built an over- the-horizon virtual teaming capability delivering intelligence, logistics, communications, nance, and resourcing to the warfighter.
Command Tours include Navy Reserve Navy Information Operations Command Texas, Minneapolis, Minnesota; Navy Reserve Navy Information Operations Command Georgia, Orlando, Florida; Navy Reserve U.S. Cyber Command while also serving as the director of the command's Joint Cyber Reserve Element; and as region commander, Navy Information Forces Reserve Region Southeast overseeing man, train, and equip requirements for 1400 Sailors across the South East of the United States and Europe.
Donald wears the Information Warfare and Surface Warfare devices. Personal awards include the Defense Superior Service Medal, the Defense Meritorious Service Medal, the Meritorious Service Medal with two Gold Stars as well as additional unit commendations, campaign medals, and ribbons.
---
Related Sessions
Navy and Space
Thursday, August 26, 2021
8:30 am - 9:30 am
Track: Symposium Program
---