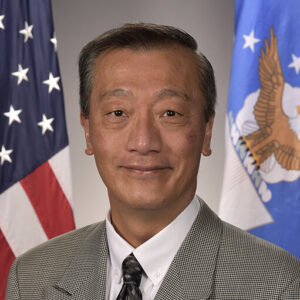 Tse-Horng "Richard" Yu
Director, J6
U.S. Space Command
As the Director of J6, Mr. Richard Yu serves as the primary staff officer responsible for the formulation and implementation of Joint policies, concepts, and procedures to ensure effective use of space systems that provide the means by which the President and the Secretary of Defense exercise command and control over the nation's strategic space forces and provides C4 for CDRUSSPACECOM to execute the full range of the Command's global missions.  Additionally, Mr. Yu develops and implements DoD and Space Command Information and Data policies to support the command's day-to-day and operational missions, including the planning and executing DoD Information Network (DODIN) operations and Defensive Cyber Operations (DCO) for U.S. Space Command and it's subordinate elements.
Prior to his current position, Mr. Yu served as the senior Capability Developer for the U.S. Army's Space, High Altitude and Strategic Missile Defense capabilities at the Space and Missile Defense Center of Excellence, U.S. Army Space and Missile Defense Command (USASMDC), with full responsibility to develop, direct, and execute plans and programs that allow USASMDC to accomplish its core mission and proponency responsibilities. In this capacity, Mr. Yu led the development of Army's first Space formation for the Theater Army with full complement of effects to conduct operations for space control, navigation warfare, tactical satellite operations, obfuscation, and high altitude operations. In addition, Mr. Yu led the Title X capability development to complement the Strategic Missile Defense material solutions developed by the Missile Defense Agency to protect our nation and partners from strategic missile threats.
Mr. Yu has over 33 years of operational and acquisition experience in government civilian positions within the Department of the Army, Department of the Air Force, Missile Defense Agency (MDA), North Atlantic Treaty Organization (NATO), and the Office of Secretary Defense (OSD).  His operational experience includes serving in key leadership positions at the U.S. Strategic Command, Joint Functional Component Command for Integrated Missile Defense.  His acquisition experience in major programs include: NATO Bi-Strategic Command Alliance Information Systems (Bi-SC AIS), Terminal High Altitude Area Defense (THAAD), Ground Based Midcourse Defense (GMD), F-16 Block 60, Chemical / Biological / Life Support systems, and Airborne Warning and Control System (AWACS).
Mr. Yu received his Bachelor of Science in Mechanical Engineering at the University of Texas at Austin, and later earned a Master of Science in Systems Engineering from the University of Alabama in Huntsville.  He attended the National War College and was competitively selected (and deferred) as the senior civilian at the Air Force Air Command and Staff College.  Mr. Yu is a member of the Defense Acquisition Corp and level III certified in Program Management, Systems Engineering, and Test & Evaluation. 
Mr. Yu received many awards in his career, to include: the Chairman of the Joint Chiefs of Staff Joint Distinguished Civilian Service Award, the Office of the Secretary of Defense's Medal for Exceptional Civilian Service, the Ballistic Missile Defense Organization Award for Significant Technical Achievement, and the Air Force Systems Command Engineer of the Year Award.
---
Related Sessions
AIxSpace Track
Tuesday, April 5, 2022
10:30 am - 4:00 pm
Track: Track Pass
---