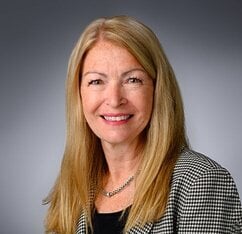 Robin Ricketts
Vice President & General Counsel
Lockheed Martin Space
Robin L. Ricketts is Vice President & General Counsel of Lockheed Martin Space, headquarted in Denver, Colorado. Ms. Ricketts is responsible for the oversight of all legal and international trade compliance functions of the operating elements reporting to Space, and Lockheed Martin's participation in the United Launch Alliance (ULA) joint venture with Boeing. Under Robin's leadership, her team provides legal and export advice and counselling on matters from business growth to acquisitions, prime contracts to subcontracts, employment matters to business operations, and beyond.
Prior to her current position, Ms. Ricketts, was General Counsel, International and International Trade Compliance for Lockheed Martin Space. Additionally, she continued as General Counsel for the Commercial Civil Space Line of Business within Lockheed Martin Space from February 2104 through November 2019. It is comprised of the Commercial Space and Civil Space segments. Commercial Space markets commercial communication and remote sensing satellites throughout the world. Civil Space includes the Human Space Exportation efforts, including Orion, as well as Deep Space Planetary and Weather missions. Her support is mostly with contract negotiations and issues, including legal analysis of choice of law for foreign contracts.
Prior to that position, Ms. Ricketts has held General Counsel positions supporting most of the Space lines of businesses and major functional organizations over her 27 years with the Legal department. Support included Commercial Launch Services, Inc., a wholly owned subsidiary of Lockheed Martin Corporation, Special Programs line of business, United Launch Alliance, a joint venture, the Finance and Business Development organizations within Space with compliance matters, mergers & acquisitions, as well as Commercial Ventures, and Sensing & Exploration Systems lines of business, and Associate General Counsel and Director, Export/Import Controls and Compliance. In this position, Ms. Ricketts was responsible for the import/export compliance activities of Space and the implementation of the AsiaSat-2 Consent Decree between the Department of State and Lockheed Martin Corporation. Prior to that, Ms. Ricketts supported the classified programs and central procurement functions. Before transferring to the Legal Department, she was in the Corporate Internal Audit Department as Manager of the Western Region for Lockheed Martin Corporation. Ricketts worked at McGladrey & Pullen, CPAs as a certified public accountant before joining Martin Marietta Corporation.
Ricketts holds a Bachelor of Science in Business Administration with a concentration in Accounting from Colorado State University and an MBA and Juris Doctor from the University of Denver.
She is the Executive Sponsor for the Professional Asian American Network Business Resource Group and on the Colorado Association Corporate Counsel Board of Directors.
---
Related Sessions
Space Law Workshop
Monday, April 4, 2022
1:15 pm - 5:15 pm
Track: Affiliated Event
---