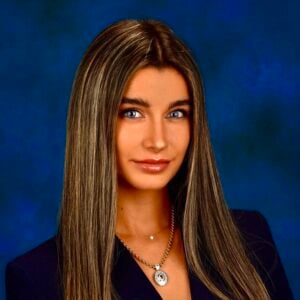 Tuana Yazici
Space Law & Political Affairs Intern
Space Foundation
Tuana Yazici is a Space Foundation Space Law and Political Affairs Intern. She is also a UNOOSA Space4Women mentee of Ms. Shelli Brunswick, an International Institute of Space Law (IISL) prospective member, and a student helicopter pilot.
Graduating a year early from the University of Miami, Yazici obtained a B.A. in PPE (Philosophy, Politics, Economics) and is now pursuing a Master of Arts in International Administration at the University of Miami before attending law school in the fall. 
Yazici has two recent publications in the field of space law and policy.  Her recent research, "A Proposal for the Usage of Reconnaissance Satellites to Monitor International Human and Wildlife Trafficking Hotspots" was published in the journal Acta Astronautica on March 4, 2022. Her other research, "Analysis: Legal Barriers Complicate Future in Orbit" was published in the Q4 of The Space Report on January 18, 2022. The article discusses the Artemis Accords, the legality of anti-satellite (ASAT) weapons, and space debris mitigation, and offers recommendations for the U.S. and other international actors on how to address these issues.
As she proceeds her education in law school, Yazici plans to continue to advocate for greater international cooperation and policy making in space operations.
---
Related Sessions
New Generation Space Leaders: Welcome Luncheon
Monday, April 4, 2022
12:30 pm - 1:45 pm
Track: New Generation Space Leaders
---