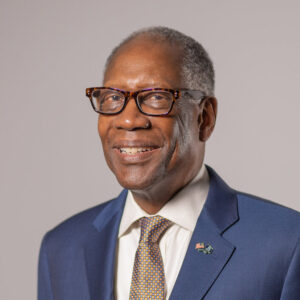 Gen. Lester Lyles, USAF (Ret.)
Chairman of the Board
KBR
Lester L. Lyles, a retired Four-Star General of the U.S. Air Force, has ben an independent consultant since 2003. Prior to that time, he served in the U.S. Air Force for over 35 years as: Commander of the Space and Missile Systems Center from 1994 to 1996; Director of the Ballistic Missile Defense Organization from 1996 to 1999; Vice Chief of Staff of the Headquarters of the U.S. Air Force from 1999 to 2000; and Commander of the U.S. Air Force Materiel Command from 2000 to 2003.
General Lyles is a director of Frontier Technology Inc. He is also a member of the National Air and Space Museum Board, National Space Council Users' Advisory Group, which is administered by NASA, and was appointed to the JobsOhio Board of Directors for a term beginning July 6, 2019 and ending July 5, 2023. General Lyles previously served as a director of General Dynamics Corporation, retiring in May 2020 and Battelle Memorial Institute, a nonprofit organization, retiring in November 2019. He also served as Chairman of the Board of Directors of the United States Automobile Association, retiring from this position in August 2019. General Lyles served as a member of the Defense Science Board in the Pentagon, International Security Advisory Board at the U.S. Department of State, and President's Intelligence Advisory Board in the White House. He also served as a director of Precision Castparts Corp. until its acquisition by Berkshire Hathaway in February 2016. General Lyles joined the KBR Board in November 2007 and assumed the role of non- executive Chairman of the Board in May 2019. He is also a member of the Compensation Committee and Nominating and Corporate Governance Committee.
General Lyles holds a Bachelor of Science degree in Mechanical Engineering from Howard University in Washington D.C. and a Master of Science degree in Mechanical and Nuclear Engineering from the Air Force Institute of Technology Program from New Mexico State University in Las Cruces. He is a graduate of the Defense Systems Management College in Fort Belvoir, Virginia, the Armed Forces Staff College in Norfolk, Virginia, the National War College at Fort Lesley J. McNairin Washington D.C., and the National and International Security Management Course at Harvard University in Cambridge, Massachusetts. General Lyles received Honorary Doctor of Laws degrees from New Mexico State University and Urbana University and was inducted into the National Academy of Engineering in 2009.
---
Related Sessions
Satellite Forum Breakfast
Wednesday, August 25, 2021
7:15 am - 8:30 am
Track: Meal Event
---