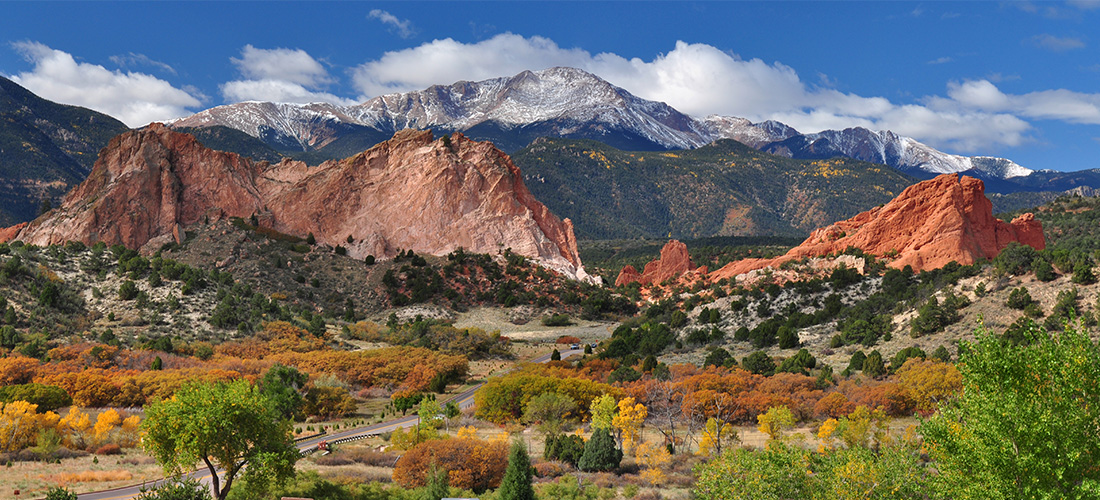 If your time in Colorado Springs allows for a little rest and relaxation, the city has much to offer. From breathtaking views and landscapes to quaint shops and unique attractions, not to mention just a short drive to some of the world's best skiing, we invite you to experience all that Colorado Springs has to offer!
Local Attractions
If you decide to extend your stay in Colorado, there are plenty of indoor and outdoor recreational opportunities for everyone, including hiking, biking, theme parks, museums and more. Following are just a few of the attractions:
Space Foundation Discovery Center
The larger aerospace community knows Space Foundation best for hosting the annual Space Symposium. What you may not know about is Space Foundation Discovery Center. Located only minutes away from Garden of the Gods, the Discovery Center is the region's first and only dedicated space, science and technology center. It is an interactive, education-focused destination that advances science, technology, engineering, art and mathematics (STEAM) in the exciting context of space exploration, development and utilization.
Space Foundation Discovery Store will be at the Space Symposium.
To see even more of what Colorado Springs has to offer, check out visitcos.com.
PeakRadar.com is a free, online community calendar that will help you discover the many wonderful cultural events and activities here in Colorado Springs and throughout the Pikes Peak region.
---
Facts and Figures
Founded in 1871 by Civil War hero and railroad magnate General William Jackson Palmer, Colorado Springs is the state's second largest city with a metro population of almost 650,000. Friendly residents, exciting recreational activities, unique attractions and stunning natural beauty make Colorado Springs one of the country's most sought-after cities to visit and live in. The Springs was recently #13 on the New York Times list of 52 Places to Go in 2020, as well as #10 on TripAdvisor's Top 25 Trending Destinations. Named the fastest growing city for millennials by the Metropolitan Policy Program at Brookings Institution and #4 on Thumbtack's annual Small Business Friendliness Survey, the city, also known as Olympic City USA, is also home to the U.S. Olympic & Paralympic Committee and the U.S. Olympic & Paralympic Training Center, where 130,000 people tour each year. Twenty-four national federations for individual Olympic sports and 50 national sports organizations call the city home.
---
Business
Colorado has a strong aerospace, satellite and space industry, with more than 100 companies engaged in the research, development and production of a wide variety of products and systems for commercial, military and space applications. The state ranks second in the United States for private aerospace employment concentration and is home to the nation's third largest space economy, providing the support, resources and workforce to promote innovation and industry leadership.
Colorado's Front Range is also a unique military community hosting numerous distinct and complimentary military missions and headquarters functions on multiple installations:
Air Force Space Command
Buckley Air Force Base
Cheyenne Mountain Directorate
Fort Carson
North American Aerospace Defense Command
Peterson Space Force Base
Schriever Space Force Base
United States Air Force Academy
United States Northern Command
US Army Space and Missile Defense Command / Army Forces Strategic Command
---
Weather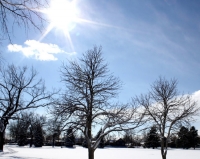 Colorado is known for its snowy winters in the mountains and mild winter weather in the foothills. The state is proud to be one of the sunniest locations around, averaging more than 300 sunny days per year. Summers are warm and dry, attracting many "snowbirds" to adopt it as a summer home. Although the average daily temperature is 81 degrees Fahrenheit for August, plan to dress in layers when you travel to the Space Symposium, as the weather can and does change often in Colorado!
---
Airports
The Colorado Springs Airport (COS) is served by five airlines and ranks consistently as the airport "lowest in delays" in the U.S. More than two million passengers pass through COS each year. Denver International Airport (DIA) - heavily used by Colorado Springs travelers - is an hour and a half drive from Colorado Springs. DIA is open 24 hours a day, seven days a week and is served by most major airlines and select charters, providing nonstop daily service to more than 130 national and international destinations.
---
Restaurants Near The Broadmoor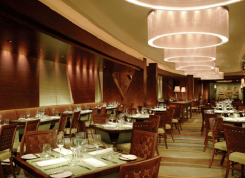 The Broadmoor offers a wide variety of dining experiences through its award-winning restaurants. The choices range from fantastic pub fare, to steakhouse favorites, to the finest in fine dining. To read more about dining at The Broadmoor, click here.
There are also an array of dining options within close proximity of The Broadmoor, from elegant, to casual, to fast-food. To see a complete list of local restaurants within a three-mile radius, visit the Restaurants page.