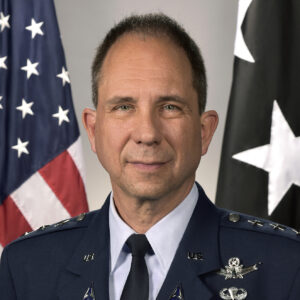 Lt. Gen. John E. Shaw, USSF
Deputy Commander
United States Space Command
Lt Gen John Shaw is the Deputy Commander of U.S. Space Command.  He entered the Air Force in 1990 as a distinguished graduate of the U.S. Air Force Academy with a degree in astronautical engineering and a minor in Russian language.  He also holds a Master of Science in Aeronautics and Astronautics from the University of Washington, and a Master of Arts in Organizational Management from The George Washington University.  In addition, he is an associate fellow of the American Institute of Aeronautics and Astronautics.
He has served in a variety of air and space operations and staff positions, to include command at the squadron, group, wing, numbered air force, and component command levels and was a Senior Policy Advisor for the office of the Deputy Assistant Secretary of Defense for Space Policy. 
Lt Gen Shaw has completed multiple Joint assignments to include assignments with a variety of international partners, particularly during his time as the Commander, Combined Forces Space Component Command and during his current duties with U.S. Space Command.
He is a frequently-published author of works such as "The Influence of Space Power Upon History: 1944-1998," "Whither Space Power? Forging a Strategy for the New Century," "Guarding the High Ocean: Towards a New National-Security Space Strategy through an Analysis of U.S. Maritime Strategy," and his latest publication, "Sailing the New Wine-Dark Sea: Space as a Military Area of Responsibility."  Even more recently, Lt Gen Shaw was interviewed regarding the current state and possibilities for the space domain by Wired Magazine and by Politico.
---
Related Sessions
Space Warfighters Luncheon
Wednesday, April 19, 2023
12:15 pm - 1:45 pm
Track: Meal Event, Symposium Program
---