The Space Foundation is building the next generation of space leaders and improving the overall quality of education through teacher, student and community programs that use space themes to improve students' interest and skills in science, technology, engineering and mathematics (STEM).
Teacher Liaison Workshops

During the Space Symposium Teacher Liaison Workshops, Space Foundation Teacher Liaisons receive space-themed, hands-on training that they can take back to their classrooms to better engage students in science, technology, engineering and mathematics (STEM).
Space Foundation Teacher Liaisons are nationally recognized as space and science education advocates, serving as an active link between their school / district, NASA and the Space Foundation. Teacher Liaisons receive many privileges, participate in special activities and receive specialized training at Space Foundation and space-themed workshops. Teacher Liaisons are invited to attend the Space Symposium at no charge to help inspire their students to become the next generation of space explorers.
View Educator and Student Events Schedule
Alan Shepard Technology in Education Award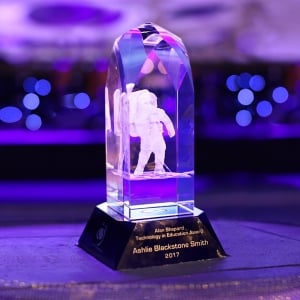 The Space Foundation, in conjunction with the Astronauts Memorial Foundation (AMF) and the National Aeronautics and Space Administration (NASA), annually presents the Alan Shepard Technology in Education Award to recognize outstanding contributions to creative and innovative use of technology in education by K-12 educators or district-level education personnel.
The award, which is named for Mercury and Apollo astronaut Alan Shepard, honors an educator who has demonstrated a commitment to inspiring students' interest in science, technology, engineering and math (STEM).
Alan Shepard Technology in Education Award Recipients
2019 Jill Gilford
2018 Diego Martinez
2017 Ashlie Blackstone Smith
2016 Margaret Rhule Baguio
2015 June Scobee Rodgers, Ph.D.
2014 Lynne F. Zielinski
2013 Daniel R. Newmyer
2012 Dr. Cynthia D. Waters
2011 James E. Richmond
2010 Allen V. Robnett
2009 Ricardo V. Soria
2008 Kevin L. Simmons
2007 Luther W. Richardson
2006 Kathy R. Brandon
2005 Ronald F. Dantowitz
2004 Charles Geach
2003 Brian Copes
2002 Thomas Hunt, Frank Waller
2001 Lori Byrne
Contact Us
Contact the Space Foundation Education Team via email at [email protected] or call +1.719.576.8000 or +1.800.691.4000.
Student Programs — Space Symposium New Generation Leadership Exchange and Teacher Liaison Exhibit Center Student Tours
The Space Foundation New Generation Team, in collaboration with the Space Foundation Education Team, is pleased to offer a Leadership Exchange for high school students, in combination with our student tours this year, in the Ball Aerospace Exhibit Center.
New Generation professionals, from the Space Foundation's Corporate Member companies, will have the opportunity to make a lasting impact on high school students by providing their unique leadership perspective and vision for the future. Mentors will share personal and professional experiences which they have found valuable during their career, and answer any questions that these college bound students may have.
Guided tours to specially designated "destination booths and displays" are folded into a larger, broader educational experience that represents a wide variety of aerospace programs, companies, career possibilities, and organizations. The Ball Aerospace Exhibit Center will offer an important and valuable glimpse into the most innovative space technologies and the student visits to the customized destination booth give participants opportunities to learn more about the companies participating in the space industry.
This invitation only access to Space Symposium for students is just one of the many benefits of participating in the Space Foundation's Teacher Liaison program. To find out more about this prestigious, internationally recognized program, as well as how you can get involved, please click on the link below:www.discoverspace.org/education/for-educators/teacher-liaisons