Bringing together leaders from commercial, government and military space from around the world, the Space Symposium provides a forum to discuss, address and plan for future achievements in space. The Space Symposium program delivers exclusive networking and engagement opportunities with influential participants in one convenient and extraordinary venue. Space Symposium luncheons and dinners provide additional contact with influential participants.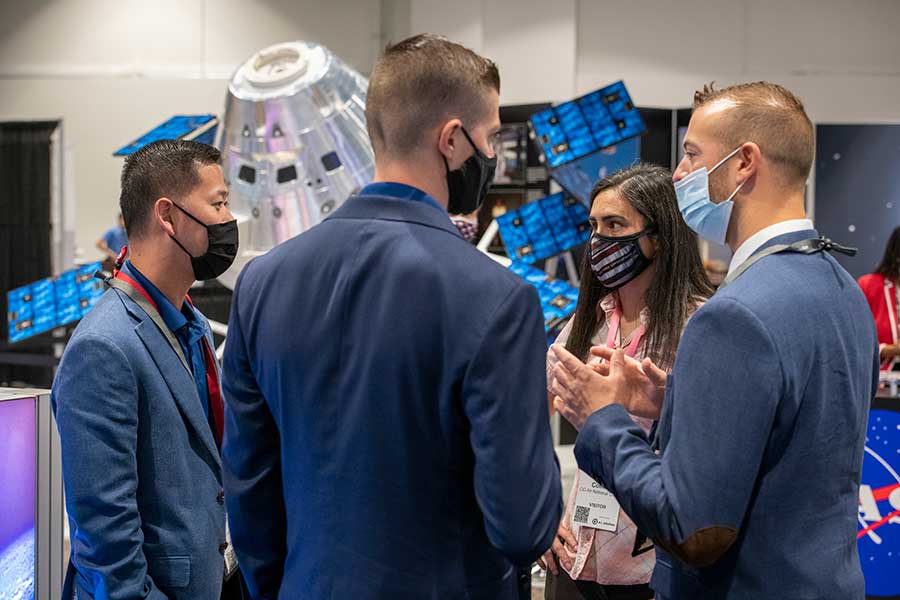 CONNECT
Connect with participants in the global space community. Don't miss this opportunity to make vital and profitable connections.
ENGAGE
Timely, thought-provoking agenda with forward thinking experts. International, commercial, emergent space and national security focus.
PROSPER
Develop lasting relationships while browsing the Northrop Grumman Exhibit Center, attend discussion panels, technical talks, meals and more.
Northrop Grumman Exhibit Center
Experience the latest in space technology and network with your customers when you visit our expansive exhibit center. The 37th Space Symposium is the number one international event for the space industry, attracting thousands of representatives from the military, civil and commercial space sectors – all in one location. This is the one event where our exhibitors know they can reach all their customers and new prospects in one place. Don't miss this opportunity to reach your target audience.
Space Symposium Program Meals and Networking Events
Meals and events are the perfect place to mingle and connect with fellow Space Symposium attendees. Whether it's a casual, quick bite in one of the Broadmoor restaurants, a luncheon or a formal dinner, there are plenty of opportunities to network with colleagues, clients and potential customers.
Coffee and Refreshment Breaks
Sometimes the best place to make a connection is at an informal setting like a coffee break. The Space Symposium offers coffee and refreshment breaks every day throughout the event. Relax, have some coffee and strike up a conversation with one of your co-attendees.
Speakers
Another benefit of Space Symposium participation is the opportunity to learn from prominent, world-renowned speakers. The Space Symposium is the stage for the most notable space leaders across the globe, and a tremendous amount of information will be shared through the many presentations and sessions.